Places to Stay
Accommodations in proximity to campus: 
Best Western – San Marcos
917 North IH 35 Frontage Rd
(512) 754-7557
 Comfort Suites – San Marcos
104 North IH 35
(512) 392-1006 
Days Inn – San Marcos
1005 North IH 35
(512) 353-5050
 Red Roof – San Marcos
817 North IH 35 
(512) 754-8899 
La Quinta – Kyle
18869 North IH 35 
(512) 295-5599
Thank you for planning your event with us! We are excited for the Texas State German Contest and have created a web link for your guests.
Here is the reservation link your guests can use to make online reservations:
Book your group rate for Texas State German Contest
You will find the information for your online reservation link below. If you have questions or need help with the link, please do not hesitate to ask. We appreciate your business and look forward to a successful event.
—————————————————————–
Texas State German Contest
Start date: 2/23/18
End date: 2/24/18
Last day to book: 2/9/18
Marriott hotel(s) offering your special group rate:
Fairfield Inn & Suites New Braunfels  for 71.00 USD  per night
Book your group rate for Texas State German Contest
 Arman Saenz
Sales Manager
1465 IH 35 North
New Braunfels, TX 78130
T: (830) 626-3133 Ext.152
F: (830) 626-3711 
Campus Map
The map below has the buildings and areas marked that we are using on Saturday. 
For the full campus map, please click the link of the Campus Map, which will take you the TX State University website map.
 We will be using the following buildings:
Centennial Hall (CENT) – Digital Logo, Duet Acting, Play, Puppets (Upper/Lower), Pass Auf!, Videos, Contemporary Music, Folk Dancing/Einzeltanz, Judges' Meeting/Breakfast
Taylor-Murphy History Building (TMH) – Tab Room, Score Room, Gingerbread Houses and Shirt Design
Flowers Hall (FH) – Written Tests, Poetry Memory, Poetry Reading, Prose Memory (L1/L2), Classical Ensemble, Pair Discussion, Photo Essay, Photography
Evans Liberal Arts (ELA) – Awards Ceremony (including instrument storage – TX State not responsible for theft!), Scavenger Hunt, Vocal Solo, Oral Tests (except Pair Discussion -see above)
Quad – Courtyard area between most of these buildings – T-shirt Sales (TX State German Honor Society), Patches Sales
Derrick Hall (DERR) – Prose Reading 1-4, Prose Memory 1-4, Poetry/Prose Memory Adv., Arts & Culture (except Gingerbread Houses & Shirt Design), Chorus, Polka Band, Skits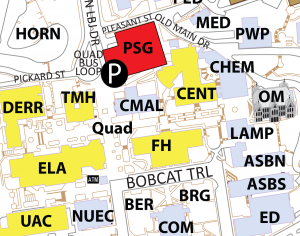 Parking Map & Instructions
Dear Teachers and Volunteers:
Please print these parking directions and teachers, please give this to the bus drivers. Click here for one printable document with the various TSGC map information.
Directions for buses:
Buses will use the bus loop near the Quad (corner of Sessom and LBJ) to drop the students off. After dropping the students off, go back down to the light at LBJ/Sessom – turn right. Then head to the East side of campus towards the Coliseum or Stadium lots. (P9 & P10E on the map)
Stay on Sessom until it dead ends at Aquarena Springs Dr. – Turn left.
Pass through one light (Charles Austin Dr.) and the 1st parking area is on the right.
If that lot is full, the second parking lot is at the next light on the right (Post Rd).
Buses are not allowed to park at the Sessom lot (R2 & P5 on the map) because the asphalt is not made for the weight of buses. However, this is a decent alternative lot for the volunteers in the event the other parking garage is full. (Click on images to enlarge)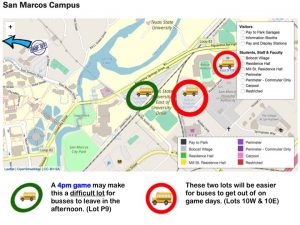 Personal Vehicles:
Parking in designated areas is FREE on weekends. (Make sure it's not "Reserved".)
For the university's full campus parking map, please click on Parking Map, which will take you to the TX State University website map.